Welcome to S&R Plumbing
A Division of Scavello Restorations, Inc.
Plumbing Services in Collegeville, Pennsylvania & Surrounding Areas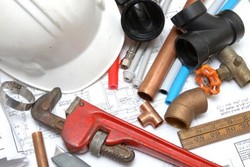 Proudly installing and repairing plumbing in Collegeville, PA area homes and businesses since 2015, S&R Plumbing is a trusted and preferred provider of plumbing service, pipe and valve repair, and residential and commercial water system services.
S&R Plumbing offers a wide range of water related services from pipe and tube installation during construction to rooting clogged pipes and installing new valves, faucets, drains, and pipes post construction to enhance your Collegeville area home or building. Whatever your plumbing project S&R Plumbing can get water flowing to that new kitchen or bath, relocate or expand sink, shower, or tub, or update piping and plumbing fixtures to replace corroded parts, prevent costly leaks and and meet Pennsylvania plumbing codes.
---
Call for an Estimate
---
Emergency Plumbing Repair
If your Collegeville area home or business is having plumbing problems, give S&R Plumbing a call at (610) 806-5047 right away. Leaky pipes can cause costly water damage to your home and can lead to mold and mildew. Clogged pipes can lead to overflowing sinks and toilets. Yuck! Call for S&R Plumbing an immediate resolution to your urgent plumbing problems.
Hot Water in Collegeville area
Living in the Collegeville area without hot water is at best inconvenient. Cold showers are not fun. Washing dirty hands with cold water is often ineffective. Washing dishes in cold water is not sanitary. If the hot water heater in your Collegeville home is failing, S&R Plumbing can help. Give us a call at (610) 806-5047 and we'll help you get your water hot again.
Collegeville Area Commercial Plumbing
Your Collegeville area business having plumbing issues? S&R Plumbing plumbers are licensed to handle commercial plumbing problems such as leaking steam pipes, lavatory problems, roots in waste water pipes, and heat distribution irregularities in buildings using forced hot water or steam radiators. Give S&R Plumbing a call at (610) 806-5047 to learn more.
---
Call for an Estimate
---
Call now to discuss your Collegeville plumbing needs.
S&R Plumbing: A division of Scavello Restorations, Inc.